Prices range from $ 1350 to $ 1950 per night
Depending on the season, number of rooms & people
Please leave us a message and our sales team will get back to you as soon as possible with all the details
villa Asi Chaweng beach koh samui
Be overwhelmed by the infinite space
Villa Asi by the Pavana Group is an architectural marvel which pairs open plan cutting edge design with luxurious interiors and high-end furnishings.​Located in an exclusive and highly sought after location which boasts breathtaking hillside views of Chaweng Bay, Villa Asi provides a serene island getaway atmosphere whilst being nestled between the island's top attractions.​Consisting of 6 en suite master bedrooms in a spacious split-level complex, Villa Asi features a range of communal areas ideal for gatherings, making it the perfect luxury getaway for families and groups.
Within close proximity to Villa Asi, you'll find plenty of activities and attractions offering excellent opportunities to sample the local culture. Waterfalls, landmarks, elephant experiences, and local villages are just a short car drive away, and the nearby Chaweng beach offers a wide range of water sports as well as the perfect chillout with powdery white sand and colorful reefs. Choosing to adventure off the island, our in-villa team can arrange day trips in long-tail or speed boats to give you the Koh Samui experience from the seas. If a change in tempo is what you're looking for, you'll be spoilt for choice by Chaweng's legendary nightlife which is home to endless shopping boutiques, restaurants, cocktail bars and clubs.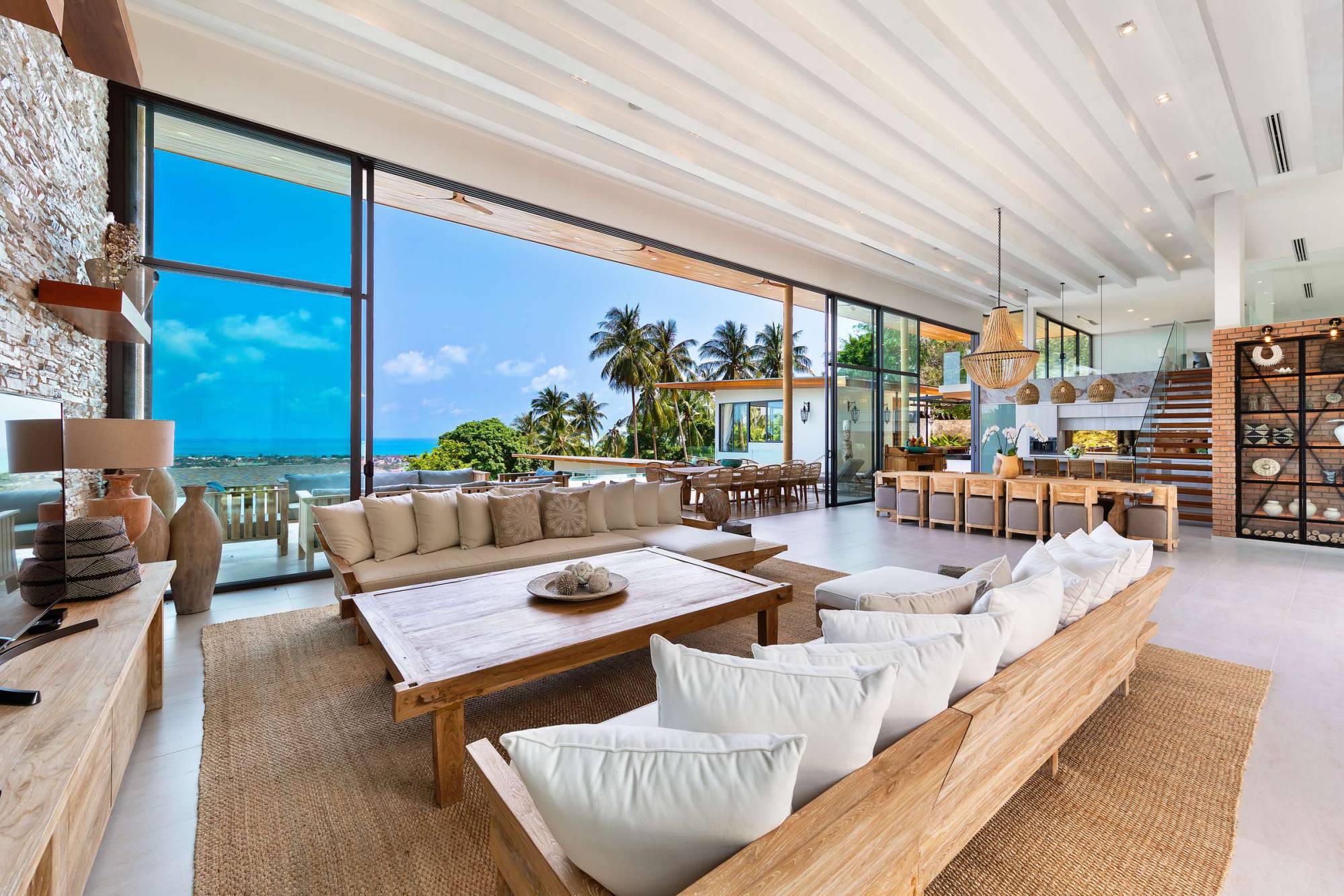 Villa Asi's open plan design features seamless divisions, high ceilings, oversized windows and doors for an expansive feel which transports the traveler to a world of indulgence.
The sweeping split-level infinity pool overlooks a dramatically stunning hillside view of the pristine Chaweng beach, and features a shallower area for children with nearby pavilion, equipped with sun loungers for parents.
A true sanctuary, visitors will enjoy first class service from our in-villa team who are trained to the highest levels of hospitality to offer discreet yet attentive care. The experienced chef is there to provide delicious tailored culinary treats and the villa manager will assist guests with every aspect of their stay, to ensure that it's one that won't be forgotten.
Incredibly calm and private, Villa Asi's impressively stunning architecture is engulfed by idyllic views from all directions, creating the ultimate getaway atmosphere.

Satellite channels + Netflix
Set in an incredibly calm and private area of Chaweng Bay, yet only a stone's throw away from the island's most popular tourist attractions, Villa Asi reaps the benefits of both worlds.
Guests may venture out to Samui's cultural landmarks with ease, or simply enjoy the serenity of the surroundings by making the most of all that Villa Asi has to offer.
Whether guests are looking to simply kick back and relax with a massage by the infinity pool, head around the island for sightseeing, or partake in on-site activities such as yoga, Thai boxing and cooking classes, our professional villa team will seamlessly arrange it behind the scenes.
At Villa Asi the opportunities are endless, we're here to make dream vacations come true!